HOW DO YOU HANDLE OUTLETS WITH A DROP IN TANK LINER?
While there are a few methods for handling drains in a tank liner the most common method is with a fabricated fitting.
We fabricate a spool piece that would fit the inside diameter of the piping and the appropriate length. This spool piece would have a flange face on each end. One of those flange faces is welded to the liner and the other flange face would come across the pipe flange face and act as the gasket between the flange fittings. If provided with proper location we can build the outlet into the liner itself. Alternatively the outlet can be made separate and once the liner is installed the outlet can be inserted and the one end of the outlet welded to the body of the liner. When several outlets are involved, having the outlets separate from the liner tends to make for an easier installation.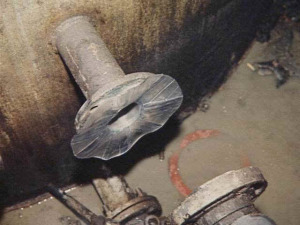 Tags: outlets