THE EXTRA PIECES IN WITH YOUR TANK LINER
In amongst the packaging of every drop in liner we provide will be some extra pieces of liner material.
Typically these pieces will be triangular in shape. These pieces are what we cut out of the liner design to make the bottom corner of your PVC liner. We include these pieces in with the liner so that you will have scrap material to use for a repair if ever needed. We recommend that the pieces be kept in a safe place and where someone will remember where they are if a repair is ever needed. This way, a repair can be made immediately without having to wait for more scrap material.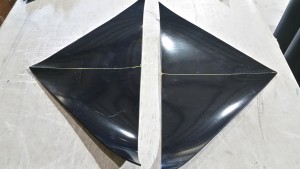 Here is how to make a repair of a PVC tank liner using flexible PVC adhesive.
Tags: repair